Film Sheet
Directed by  Lionel Guedj – Stéphane Bébert
Produced by Dominique Marzotto – Bruno Bébert – Lionel Guedj – Stéphane Bébert – Vincent Brançon
Coproduced by Mark st John – Philippe Akoka – Alexander Akoka
Edited by Yves Deschamps
re Recording mix Julien Perez
CAST
Sting – The Police
Stewart Copeland – The Police
Miles Copeland – ex – Police Manager
Mick Jones – The Clash
Topper Headon – The Clash
Glen Matlock – The Sex Pistols
Jean Jacques Burnel – The Stranglers
Wayne/Jayne County – Wayne County and the Electric Chairs
Kim Wilde – Pop Star
Nick Turner – The Lords of the New Church
Peter Zaremba – The Fleshtones
Keith Streng – The Fleshtones
Manu Katché – Musician
Joe Sumner – Fiction Plane
Chris Musto – The Flying Padovanis
Paul Slack – The Flying Padovanis
Little Bob – Little Bob Story
Jay Boberg – IRS Records
Marc Zermati – Skydog Records
Gerard Taïeb – Gibus owner
Paul Mulligan – Henrys' roomate
Jean Padovani – Henrys' father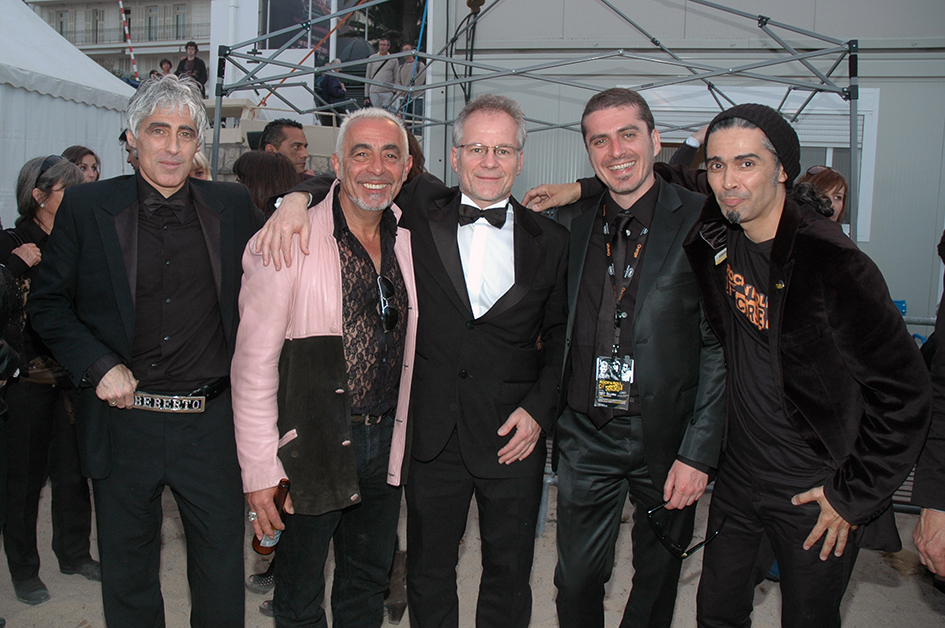 The Protagonists
Stewart Copeland
He founded The Police with Henry Padovani and Sting. Oh, and he's the drummer of the band.His distinctive drum sound and uniqueness of style has made him one of the most popular drummers. After The Police broke up, he started composing film scores such as  Rusty James (Francis Ford Coppola) or Wall Street (Oliver Stone).
Miles Copeland
Former The Police manager and Stewarts' brother, he's a linchpin of 70s' et 80s' pop music. He founded IRS records which will sign acts such as REM, Fine Young Cannibals, Buzzcocks… He was Stings' manager during 7 albums.
(Oh and IRS is also…)
Topper Headon
The Clash drummer, one of the most gifted drummers of all times. Sacked from the Clash as his drug addiction spiraled out of control, Topper will go through 13 rehabs. He made it through! Topper is a sphinx. (Oh, and he wrote Rock the casbah…)
Kim Wilde
Iconic Pop Star from the 80s', Kim Wilde is also a successful Horticulturalist! Kim has published several books.
Glen Matlock
Original bass player of The Sex Pistols, Glen quits the band quickly. There is a variety of reasons… But Glen did compose tunes such as Pretty Vacant and played on most of the tracks of Never mind the bollocks. Glen's still performing around the world.
Jean-Jacques Burnel
Franco-English, Jean-Jacques is a musican, producer, songwriter. And, of course, bass player for The Strangler that he joigned after a weird and funny hitch-hiking story. JJ is a motorcycle enthusiast and, if for any reason you intended to mess him up,  you should probably be aware that he's 7th degree black belt (nanadan) in Shidokan Karate…
IRS Records
Founded by Miles Copeland in 1979, IRS Records is an outstanding source of bands and artists at the time: R.E.M., The Bangles, the Go-go's (indeed, there already were great girls bands  !), Fine Young Cannibals, The Cramps, Wall of Voodoo, William Orbit (that same guys who produces and composes for Madonna and Blur). IRS has been bought out by EMI in 1994.
The Flying Padovanis
Founded by Henry Padovani and Chris Musto (who already served for Johnny Thunders, Nico, Joe Strummer amoung others), they're quickly joinged by Paul Slack (Bass player for The UK Subs). The band made a name for himself by doing rock instrumental. The Ventures way!
Jayne County (ex-Wayne County)
Wayne County started her career as Wayne and pursued as Jayne! She's one of the first "gender bender" in the music world. Jayne, together with her Electric Chairs, will host The Police as a support band…