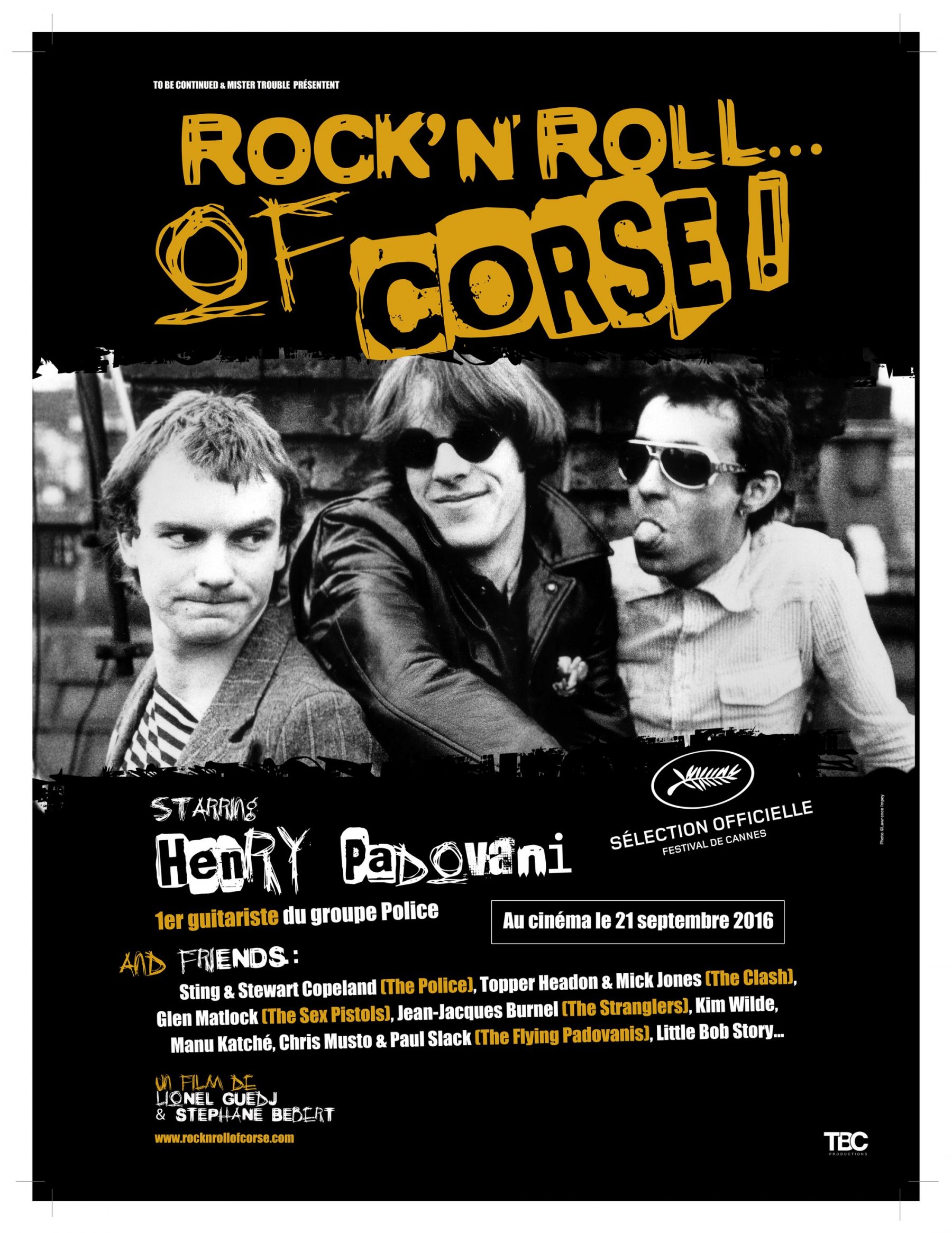 Synopsis
Some people's fates deserved to be known by everyone. Henry Padovani, this Young 24-year old Corsican, who arrived in London in December 1976, is one of them. Actor and witness of a period when the alternative and revolutionary trend, the punk movement, arose, this self-taught guitar player went through the 80's like a meteorite falling from nowhere. From The Police he founded with Stewart Copeland in January 77, until his reunion on stage thirty years later in front of 80,000 people, from The Clash to the Sex Pistols, from The Who to The Pretenders, from REM he signed up to Zucchero whom he manages, with everyone, Henry shared a little bit of their music and a lot of their lives. Going back to his London memories, camera in hand, in a move guided by a series of improvised sequences, of interviews of some of these Rock'n'roll heroes, and of those who were there, more anonymous but just as important, this is the story of an extraordinary man, faithful to his drive for freedom and spontaneity.
A man for whom Rock n Roll has always been synonymous of friendship and solidarity.
A man who dedicated and keeps on dedicating his life to music, and Rock'n'roll…Of Corse !
Statement
London 1976: The punk movement arose at a time when social protest was at its height, a time when the rebellious youth sought a different future than the prevailing sterile artistic and cultural context would have dictated. The movement involved all imaginable forms of rebellion, but music quickly became its chief manifestation.
It was against this social backdrop that the young Corsican Henry Padovani first arrived in England. His two-week vacation turned into a seven-year journey as the novice musician discovered a whole new world, whose fresh philosophy he quickly and instinctively adopted. This important era of musical and social history became, for Padovani, a formative period of friendship with those who are today known as the undisputed stars of pop and rock. Sting and The Police, Topper Headon and The Clash, Kim Wilde, Jeff Beck, The Stranglers… They all became part of his life. Yet Padovani distanced himself from the spotlight, focusing his life instead on human values.
To the big names of rock, Padovani was not simply a musical partner, but also – and above all – a friend; the guy who stocked Sting's fridge when The Police were still obscure and broke. And it is precisely through his dedication to friendship, solidarity, and joie-de-vivre that Henry Padovani became an ideal witness of this social-artistic gestation. Thanks to his personality, values, and demonstrated loyalty, Padovani remains the one to whom nothing is denied, the constant observer of these complicated years.
It is this element of human adventure, an integral part in the history of rock during the late 1970s and early '80s, that we reproduce in Rock'n'Roll…Of Corse! Through interviews and meetings in London and Corsica, we capture the essence of the amazing saga of Rock'n'roll. The descent into hell of Topper Headon (The Clash), the IRS label adventure alongside Miles Copeland (REM, The Bangles, Lord of the new Church etc.), friendship, solidarity, drugs, women and music all belong in this incredible story. From concerts in the historic clubs of the punk/rock London, to unpremeditated reunions and improvised discussions, Henry Padovani's voice guides us through the maze of this unique period.
We witness the truth when Henry Padovani – thirty years after the break-up of The Police's original line-up – joins Sting, Stewart Copeland and Andy Summers on the stage of the Stade de France, to play in front of a crowd of 80,000 people. The film focuses on the elements of Padovani's lifestyle.
Whether as a young student or a rock'n'roller, we follow the details of his life as faithfully as possible. We meet his family, his friends, and others who knew of the dreams of the young Henry. We are visiting his hometown, where it all began, where he realized that music would become his way of life.
At the same time, it seems essential for this type of narration to leave as much as possible to the viewer's own imagination; to uncover the story, and to self-identify with an exceptional life recounted as simply as it was lived. We believe it is important to emphasize both the human aspect that binds all these musicians, as well as the socio-political context in which they evolved.
Their music is a "soundtrack" of sorts of those years. We are considering the idea of life and accomplishment, passion for music in general and rock in particular, social rejection, and openness to others… We are using original images in which, for example, Sting testifies his deep bond with Henry Padovani, while trying to understand what was happening in this "bubbling" London by walking through the Camden district or through archive footage showing the originality and specificity of those years.
This footage is a musical and visual testimony and an inexhaustible source of context and perspective that illustrates the uniqueness of the time. Through exclusive images as the reformation of his band "The Flying Padovanis" in Japan (Fuji Rock Festival) or in Hyde Park (Hard Rock Calling), we can notice that history continues, and that music is forever a part of their lives. To them, rock is not simply a phenomenon but an entire lifestyle, a common purpose, an incessant questioning, far beyond dreams.
We are sailing back and forth between yesterday and today, between art and society, music and human adventure, memories and historical realities. As both a player and an observer, Henry Padovani is a witness from within, and his hoarse voice carries us.
The memorable melodies of the Clash, the Who, the Pretenders, the Police or the Stranglers allow us to (re)live, even if for a few moments, a time that has changed the way we listen to music forever.